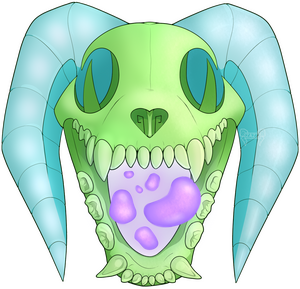 Zazi
Freelancing/Commission Artist
Digital Illustrator, Character Designer, and Creature Creator
(click to see full size)
WILL DO: Character Portraits, Illustrations, Icons, Reference Sheets, Creature Design, Banners, and Splash Art.
Fantasy and Sci-Fi Creatures, Monsters, Humans, Animals and Anthros.

WON'T DO: Extreme Kinks, Underage or Feral NSFW, NSFW of Characters from Children's Media, Hate Symbols, and Demeaning or Inflammatory Content.

I reserve the right to decline a commission without stating a reason.
I'm Zazi! I'm a (mostly) self-taught digital artist. I love drawing creatures and character designs, and I'd love to draw some for you!

I've been drawing since preschool, and art is one of my oldest and longest-standing interests. Most of what I've learned is through self-guided study and a lot of hours practicing.

I have been doing commissions for about 5 years, mainly illustrations of cute anthro animal couples and fun character designs.

In my free time, I play a lot of video games, draw fan art, and play D&D.
Prices
Prices are estimates, quotes may differ slightly from base price.
These are per-character unless otherwise specified.
Add Background
(not applicable to Full Illustration commissions, as background is included in price)

Background consisting of a single color, gradient, or simple pattern are free of charge!

Painted backgrounds (no lineart) on Half- and Full-Body artworks are $20 extra, and $10 extra on Headshots
Feel free to contact me with any questions! You may message me through any of the links above.
Please title any relevant emails/notes with "Commission Inquiry" or "Commission Application", this helps me organize!

My commission application is available through google forms:
Commission Application Form

If you cannot access the forms, you may send me a message using the template below. Small talk is not required!
Commission Application Template
Username(s): One username for each person involved in the commission, for credit/communication.
Type of Commission: Cel-Shaded, Illustration, Icon, etc.
Size and # of Character(s): ex. 2 characters, Half-Body
Description of Commission: Please be as clear as possible, this is where I decide what commissions to accept!
References: Link/Attach ref sheets/images of every character involved, keep them SFW unless the commission requires
Are you 18 or older?: Necessary for 18+ commissions. If you are not looking for adult art, you don't need to keep this in
Stripe/Paypal Email: Please clarify which payment site you are using!
Questions/Comments: Deadlines and extra stuff goes here. You can delete this line if you have none.
Do you accept my Terms of Service?: Read it if you haven't!
Terms Of Service
Basics
I reserve the right to post an image that I create or take part in creating. I also may use commissioned images that I have drawn as part of my portfolio. Private commissions are allowed upon commissioner request.

Any adult (18+ rated) artwork is for commissioners 18 or older only.

Commissioners are responsible for saving and backing up their commission.

Commissioners must be easy to contact throughout the duration of the commission. I require a contact method that can send and receive large images.

Once I have finished the sketch, I will send a WIP update. I will not continue work on the commission until the commissioner has confirmed that there are no changes needed.

Any changes to the pose, background layout, or character after lineart has begun will result in a service fee due to extra labor. Please be sure that you don't want any changes before accepting the WIP sketch. The commission will pause until the fees are paid, or the commissioner accepts the current draft. I will invoice the commissioner for edit fees if late-stage changes are necessary.
---
About References
I require a reference in order to draw your character. Reference sheets or visual artwork is preferred. Please try to keep text descriptions as organized and detailed as possible.

Those with text descriptions must be willing to accept some artistic liberty. I will most likely send you more WIP sketches to nail your design down.

There is a +$10 fee for ref sheets if you only have a text reference. If you would like to avoid this fee, send me a simple doodle of your character's design, or even some photo references. Art skill isn't necessary.

You may use real-life images to describe your character if you need, but do not send me any real life NSFW images.
---
Payment and Prices
Quotes may differ from base prices. Excessive haggling will not be tolerated.

I receive payments through Stripe or Paypal invoice only. Prices are in USD. I will not accept money sent without an invoice. I will not take cryptocurrency as a payment method.

I take full payment up front. Other payment options may be discussed with higher-priced ($200+) quotes.

I will not begin the art process before payment is recieved. Payment options can be discussed, however I will not begin the piece without a deposit, and will not release the full resolution/unwatermarked image until my services are paid in full.

I accept tips! You may send them via Furaffinity's Shinies system, my Ko-fi, or my Stripe/Paypal when paying the invoice.

Please accept the invoice within 48 hours of accepting the quote. If you do not, your slot may be given to another waiting commissioner who has paid already. If this happens, you will be put in the queue after them as long as you have paid the invoice.

If I have given you a quote on a commission, that quote will not change without notifying you.
---
Refunds, Changes, and Fixes
If you want something fixed, tell me as soon as possible. If the change is small, it won't cost anything. Substantial changes will cost extra if the change alters the lineart.

Refunds are only available if the commission is not completed. You may request a full refund and cancel the commission if I have not started the piece.

Refunds for cancellations after a commission has started will be determined by the stage the piece is on. (ex. a commission cancelled at the sketch phase will be refunded all but the cost of the sketch)
---
Reposting and Editing
The commissioner is allowed reupload the commissioned art. Please credit me as the artist.

I would prefer you don't reupload my art to e621 or similar sites.

Art of mine posted without any credit to me will be considered art theft.

Do not edit any of my art without permission.

Do not ask another artist to edit or "finish" a commission from me without permission.

Do not remove my signature from the piece, this is removing credit and you will not be allowed to commission me again if I see you doing this.
---
Duplication and Selling of My Art
Do not resell my art without express, written permission and rights to the artwork.

For art meant for giveaways/charity, I require information on this event before I will take the commission. Information such as how my art will be used (shirts, mugs, stickers, magazines, etc).

Purchasing the rights to duplicate and resell the commission is extra, and cost depends on the situation.

You are allowed to sell characters and designs that I have sold to you. Remember to credit me as the original artist for the design/artwork.

Please do not use commissioned art for tattoos/prints if you are not the commissioner.

My art is not permitted to be 'tokenized', I do not approve or consent to the attachment of Non-Fungible Tokens (NFTs) to my art. I will not accept any commissions involving NFTs or cryptocurrency. NFT sellers claiming to hold rights to my art should be reported, as they are not me.
---
Your Character Here Sales
Substantial changes to the template pose/backdrop will cost extra (and that extra fee will be listed in the YCH sale post for your convenience).

Including complex characters that cannot reasonably fit into the pre-drawn template will also cost extra.

YCH artwork is subject to the same rules and process as custom commissions, however, the pose and environment is typically pre-determined and unchangeable.
---
Adoptables/Character Design Sales
Character Design sales are first come, first served. I will set a price per design in the sale post. Excessive haggling will not be tolerated.

Small changes to the designs can be arranged, but may cost extra. Please talk to me if you are interested in purchasing a design with some modifications. Once the design is yours, you may make changes yourself.

Adoptables/character designs are limited to one sale per design, as the customer will become the new owner of the character. When you purchase a character design from me, you have the right to repost the art I have made for them AND have the right to use said character design as your own.

Credit me when using my art. Crediting me for the design itself is very welcome, but not required unless you are selling it.

All sales of character designs are considered final.
---
Streams
In-stream commissions will be taken at my leisure. I will make it known if I am taking in-stream commissions that day.

In-stream commissions will be started on-stream, but may not be finished then. I am in control of what kind of commissions I'll take during a stream. I am allowed to refuse an in-stream commission without giving a reason.

You must agree to my TOS before commissioning. I will expect payment before I will start the piece.

I will not accept in-stream commissions during a gaming stream.
---
Privacy Policy
I do not collect or sell the personal information given to me by commissioners. I will never use your information (name, address, payment info, etc.) for my own personal gain.

I will not publicly state your real name unless you ask me to. If you would like the commission to be private, or would like to be an anonymous commissioner, please let me know prior to the completion and subsequent posting of said commission.

Commission queue slots will not share the name of the commissioner without their express permission. Slots are reserved as "Slot # - [brief description of art]". Commissioners are informed of their place in the queue privately.
This TOS is subject to change at any time, so please check back before sending in an application.
last updated 9/15/21 [edits for brevity]